Manage Business Expenses Online
ERP's software to manage daily expenses offers a fluent encoding process - The whole flow of managing employees' expenses is implemented as:
- Drafting the expense by the employee
- Confirmation of the sheet by the employee
- Validation by the employee's manager
- Validation by the accountant
- Creation of accounting entries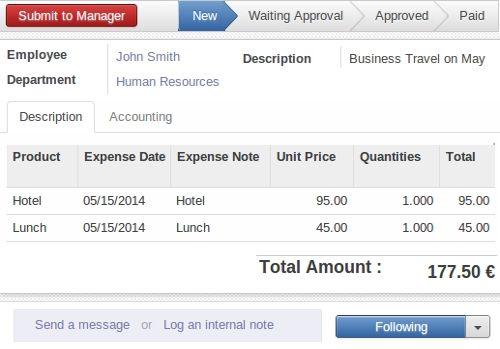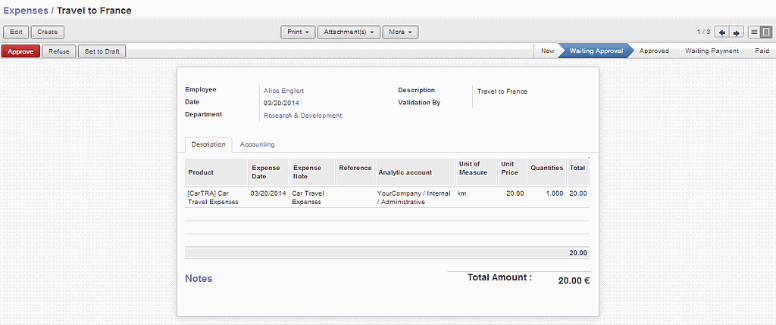 Managers Monitoring
ERP's open-source software to manage business expenses allows you to manage your employees' daily expenses. Whether it's employee travel expenses or any other costs, this software gives you access to your employees' fee notes and it gives you the right to complete and validate or refuse the notes. After validation, it creates an invoice for the employee. No need to download any specialized software or program to manage expenses - everything can be done directly in this great app!
Multiple Users Management
As a manager:
follow expenses within your team

approve or refuse expenses (and post a reason)

submit approved expenses to the accounting department
As a user:
record your expense

post comments for your manager

check the status of your expense
As an accounting department:
check the employee's expense

create an invoice

process the payment



Integrated with Timesheet App
This module also uses analytical accounting and is compatible with the invoice on the timesheet module - so you are able to automatically re-invoice your customers' expenses if you work by project. Whether you need expense tracking software for small businesses or software with more features for a big multinational, ERP can meet your needs with this simple, user-friendly, efficient, and professional app - the best app on the market!